Listening to music boosts your mood. Having a device that enables you to listen to your favorite music with a durable and comfortable experience makes your mood boost twice,and thinking about that product takes us toAftershokzAeroplex Headphones.
The Aftershokz is an unparallel brand of technology containing numerous pieces of equipment offering a unique technology known as bone conduction technology. Ever heard a technology like that? No worries, I will explain this perplexing word. The bone conduction technology is different from ordinary audible devices as it transmits sound by the vibration of bone to the ultimate hearing part of our ear.
Isn't it cool to experience such a great technology that delivers audio with its different devices such as mobiles and Bluetooth earphones through the listeners' jaw and makes you relish every pitch of the song or audio you have been listening to?
The Aftershokz aeropex provides this unique audio technology and is devoid of giving any strain to its users. The open-style design and the titanium body can make you listen to your favorite songs without stressing your ears, making it a durable product. Let's go through its further details to convince you to buy this incredible device as soon as possible.
AfterShokz Aeropex Bone Headphone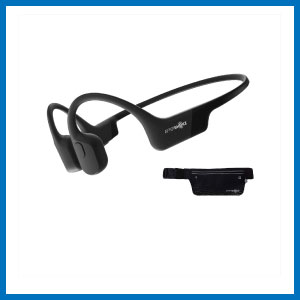 | | |
| --- | --- |
| Brand | Aftershokz |
| Connectivity | Wireless |
| Colour | Cosmic black |
| Model | AS800 |
| Form | factorIn-Ear |
The Aftershokz Aeropex is indeed the best choice ever for music lovers. By using this device, you won't get any disruption. With the aid of its bone conduction technology, you can say goodbye to any of your ordinary earphones as some of you like to listen to music on a high pitch while not want others to listen to it. Hence, the Aftershokz aero plex provides a premium pitch 2.0 and enables you to listen to your favorite podcast even louder with a less sound leakage of about 50%.
It is also a lightweight device that won't make listening to music a burden, so you can enjoy songs whenever and wherever you are. This fruitful device not only provides durability but with its magnetic cable, you can charge your earphones in 2 hours and enjoy about 8 hours of nonstop music.Many people prefer listening to music while jogging, so this device will help you to enhance your running performances. Besides, people who like visiting different adventure places face extreme weather conditions.While wearing these headphones, you will not have any worries regarding their damage because of the aftershokzAeroflexmoisture detection alert. It will keep the product safe from your sweat and any unnecessary moisture on your body.
AFTERSHOKZ AEROPEX SPECS
The Aftershokz provides its customer with a quality product that is pocket-friendly and comes with several vital specs. This product comes with a sport belt. It easily adjusts on your cheekbone, providing you with a hassle-free performance.
With its bone conduction technology, it minimizes the vibration and makes you listen to your favorite song at a louder volume. Its 1-ounce weight does make you feel like wearing nothing.
With its long battery life of about 8 hours, you can listen to music, calls, and podcasts without keeping track of time. Specific Bluetooth devices have a significant connectivity problem, but with aftershokzaeroplex, we can overcome this problem as it provides connectivity for up to 10 meters.
AFTERSHOKZ AEROPEX FEATURES:
It is a fact that hearing music during exercise increases your physical performance as playing songs on repeat keeps you exercising for a more extended period. Having headphones with wires can be disturbing and entangling.
Why don't you get a wireless device devoid of any wiring system and is durable with its enormous battery life? Yes, the Aftershokzaeroplex wireless headphones are the best device that fulfills all your desires for a perfect headphone. Its following features can convince anybody to buy this magnificent device:
MULTIFUNCTIONAL BUTTONS:
Many people are a little reluctant to use electronic devices, usually because of their control system, which can be baffling for one to understand. But Aftershokzaeroplex has provided the most accessible controls to activate voice assistant, play, skip, pause, and answer calls.
BATTERY LIFE:
Usually, some tunes or songs are so tempting that you are not tired of listening to them again and again as well as some music lovers have a great list of songs that they love to hear all day long. Hence, the Aftershokzaeroplex wireless headphones come with a great battery life of 8 hours that lets you enjoy your favorite music all day long without any cease. You can charge it for around two hours at max, and it will give you six hours of working. Also, the standby time of the headphone is about ten to twelve days.
OPEN EAR DESIGN:
The most conspicuous feature of this device is its bone conduction technology that delivers your ear a premium quality of sound without any problem. The open ear design keeps your ears safe even after using it for long continuous hours. The headphones are not supposed to fit into your ears but stay at the cheeks near your ear. It will work internally and transmit the voice to your inner ear without compromising on the quality.
WATERPROOF IP67:
Obviously, the demanding exercise makes your body sweaty and wearing Bluetooth headphones while jogging or exercise can destroy any traditional headphones. However, these Aftershokzaeroplex headphones are waterproof and can face any moisture without being damaged or performing improper functions. It also works under rainy weather, as it won't leave you on long bike rides.
Conclusion
AftershokzAeroplex is an affordable headphone with perfect battery life to convince us to use it for long hours. It will keep you accompany through your boring work rides, motivate you on the running track, and connect you with your friends and family over a call.
It is a wireless headphone with the integration of next-level technology responsible for keeping your ears safe. The robust Bluetooth connectivity would not disappoint you, and the comfort of this product would be stunning. It is a reasonable entry-level gadget to enhance your listening experience in style.