Nowadays the Bluetooth devices are as common in your house as mobile phones as this phenomenal technology has provided convenience to its user in different ways. As the demand for this technology increases day by day, most of the devices are using Bluetooth technology and trying to be the best to produce Bluetooth wireless devices. But if you are looking for perfect wireless Bluetooth headphones, then Aftershokz is truly a cynosure.
Aftershokz has always been number one in producing versatile products. Similarly, its wireless Bluetooth headphones prove to be excellent in the market. But what is the main thing that this brand uniquely provides? Yes, it is the bone conduction technology that has proved to provide ease for their costumer.
How a world without music feels? It is like a colorless life or if something is missing. Music plays a significant role in refreshing our minds and giving us an energy boost up. So, if you want a device that not only produces the quality of sound but also gives comfortable usage, then the Aftershokz Open Move wireless headphones will be a superb choice.
Aftershokz OpenMove Bone Conduction Headphone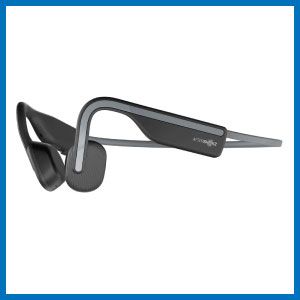 | | |
| --- | --- |
| Brand | Aftershokz |
| Connectivity | Wireless |
| Colour | Slate grey |
| Model | AS660 |
| Price | Under $100 |
Usually, most people love to hear music at a higher pitch and cannot be aware of the surrounding, which can be dangerous too. But with AftershokzOpenMove headphones, this problem can be avoided by its unique open-ear design that does not wholly cover your ear. You can be fully aware of the surroundings, which will give you a connected and safe experience.
This device suits best for athletes not only because of its unique design but with its durability and waterproof technology. Hence, you can do different sports such as running, cycling, swimming, etc., without worrying about its damage.
The main thing for a Bluetooth headphone is its battery life headphones with low battery backup are hectic to use, but with AftershokzOpenMove Bluetooth headphones, you will get a strong battery life of up to 6 hours. AftershokzOpenMove comes with Bluetooth 5.0 that provides a connectivity range of 10 meters. With a premium pitch of 2.0, you can have a premium sound quality which is undoubtedly cheery on the top.
AFTERSHOKZ OPEN MOVE SPECS:
Aftershokz has never compromised in producing quality products, and hence the AftershokzOpenMove headphones maintain all the quality standards with impressive specifications. Its open-ear design and lightweight of about 29 grams provides comfort.
AftershokzOpenMove, with its premium pitch 2.0 with bone conduction technology, aids in producing a quality of balanced and rich sound so that you can enjoy songs, calls without any obstacle. It contains a titanium band that helps people exercise or any sports with a secure fit of these OpenMove headphones.
It is sometimes annoying when you are talking to someone or listening to your favorite music with a Bluetooth headphone, and your battery goes low even you have just charged it. But by using AftershokzOpenMove headphones, you won't get this type of disturbance as this device comes with 6 hours battery backup time and fulfills the durability standards.
It also contains sweatproof technology with which AftershokzOpenMove headphones are resistant to sweat, moisture, and dust. What if a Bluetooth device provides a multipoint pairing with several devices? These adaptable wireless headphones with Bluetooth 5.0 connectivity offer pairing with many devices such as laptops, smartphones, IOS, PC, Mac, etc. hence AftershokzOpenMove headphones with all its great specification is genuinely the best thing to buy.
AFTERSHOKZ OPEN MOVE FEATURES:
With an abrupt upsurge in Bluetooth technology demands and their usage, many brands compete to produce the best quality product for their customers. As listening to music, podcast even long calls on mobile phones have become common nowadays, so the demand for wireless headphones is also increasing.
Amid these pandemic situations, music helps us from boredom. It plays an essential part in relaxing our minds from all-day stress. Having a Bluetooth headphone that is light to wear and provides a comfortable and splendid performance will keep you listening to your favorite songs, again and again, is a LUXURY. So, you should buy AftershokzOpenMove headphones, which comes with plenty of outstanding features:
AftershokzOpenMove headphones, with their unique design, do not cover your ears entirely, and with the help of its bone conduction technology, the sound delivers to your ears via cheekbones. This feature also helps us to stay connected with our surroundings as well.
To enjoy nonstop calls, music, podcast, and for a long durable performance, the AftershokzOpenMove headphones provide a 6-hour battery life. It also contains a USB charging cable, and you can quickly charge up your headphones without waiting for too long.
AftershokzOpenMove comes with a multifunctional button that easily controls commands for play, resume, skip, calls pickup, and cancellation.
This device can be a perfect choice for a person to indulge in sports or exercises. With its superb sweatproof technology, one can do jogging, exercise, or even swimming conveniently and devoid of worries.