If you love to listen to music and it helps you go through the day, you must always be looking for the best possible headphones. Music can enhance mood, increase productivity at work, change the mood, make us calm, maintain our emotions, and whatnot.
Many people prefer listening to music instead of engaging in anything else, thus investing in a good and valuable headphone. AfterShokz Titanium Bone Conduction is a wireless headphone that will keep you accompany by delivering the best possible audio quality.
AfterShokzis the company that has been producing outstanding headphones at an affordable price range. Their variance may differ, but I can guarantee it won't disappoint you when it comes to making a powerful sound.
Let's get into the details of this incredible headphone under the AfterShokz TitaniumTitanium Review and discover why you should get it right away.
AfterShokz Titanium Conduction Headphone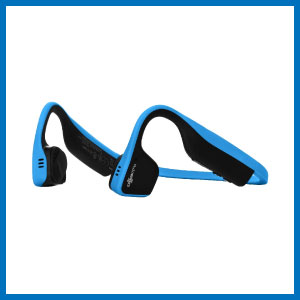 | | |
| --- | --- |
| Brand | AfterShokz |
| Connectivity | Wireless |
| Color | Canyon Red |
| Model | AS600SG |
| Form factor | In-Ear |
AfterShokz Titanium is a comfortable, slim, and easy-to-use headphone that would not be a burden to your ears. The sound quality is balanced, would not occupy completely, and allow you to focus on the outside world.
Similarly, it is designed to use at sports or at workout time. Because these are the times you need to focus on yourself, improve your productivity with a good and relaxed mood. The built-in technology is advanced, left you no excuse to avoid it.
Anyways, no one can decide on its comfortable design; I assume you need in-depth details of AfterShokz Titanium. So, I will review it in detail and let you decide for yourself.
First, we will walk through the specifications then will discuss in detail the critical qualities.
AfterShokz Titanium Specifications
It is a wireless bone conduction headphone, produces the sound that rests on your cheeks. It weighs around 36g, so you can imagine how lightweight and easy to carry it is. Besides, it does not take much time to charge, only 1.5 hours, and it will work continuously for six hours (varies over the usage). However, its standby time is around ten days, which is quite impressive.
Moreover, it has a frequency response between 20Hz to 20KHz and sensitivity counts at 100 +- 3dB. Since I call it a wireless headphone, you can connect it to your phones or any other device via Bluetooth version 4.1. it comes in gray color, and the comfortable earbuds will look stunning on you, be it fit on your cheeks or hanging over your shoulders.
AfterShokz Titanium Features
If you are still reading this, it means you are genuinely falling in love with these pretty headphones. However, I won't stop here and continue to praise this wireless sports headphone because it is worth it.
Without further ado, I want you to dive into the features it brings along to enhance your music listening experience.
Design
If you get to know about this headphone recently, it will surprise you because of its exceptional design and quality. AfterShokz Titanium Bone conduction is a headphone that is not designed to fit into your ears. Yes, the chance of damaging the eardrums automatically reduces by this statement. However, bone conduction means this pretty gray color product will set into the area near your ears (mostly on cheekbone) and transfer the sound to the inner ear using skull bones.
Now, you are safe to use this headphone while driving or riding the bike. It will keep you alert about the surrounding because many times while running, we lost our thinking track and do not care about what's happening around us. Also, if you are driving while wearing this headphone, it will warn you about the traffic and horns it makes.
Technology
This new innovative bone conduction technology that does not rely on your eardrums to make you hear its voice production could be beneficial for those who already on hearing impairments. Since it has a link between the inner ear and your skull, so your existing damage can not restrict you from listening to your favorite music.
It also integrates a technology that would not make it mandatory to pull out your phone for skipping a song. You can use your headphone and skip the sound without going through the hassle of using phone while running.
Moreover, the PremiumPitch technology guarantees long-term comfort and awareness of the surroundings while walking on the new tracks anytime. Also, the LeakSlayer tech ensures reducing the natural sound leakage, trying to enhance the overall performance.
Connectivity
For the connectivity, it does not get into the mess of buying separate wires according to your phones and connect it so you could listen to your favorite lyrics or receive the call to gossip about the day. However, AfterShokz Titanium wanted to keep things hassle-free for you and thus integrates wireless Bluetooth connection version 4.1 with the range reports at around 33 feet.
It would consume 1.5 hours to full the battery, which runs for almost 6 hours of calling time. It also comes with a lithium rechargeable battery that is also durable, promise a standby time of ten days at max.
Sound Quality
Different people have different audio preferences. Many people prefer it loud, while others keep it low to listen and feel the lyrics. Since AfterShokz Titanium wireless headphone is best used in the gym or while running, its audio performance is mediocre, producing a crystal clear voice but a little low on maximum volume.
However, no one would get different headphones for several occasions, so get it to use as an all-rounder and save your ears from any possible damage.
Conclusion
AfterShokz Titanium offers comfort, natural feel, and ears safety with its new innovative wireless headphones. Anyone can use these stunning headphones on any occasion, enjoying the music while not avoiding the surrounding.
It is also affordable to get than any high-end risky headphones that make the wire mess and can not be used for long hours. Hence, bring this easy-to-fit wireless headphone and make the most out of it.