I know you always wanted to listen to your favorite podcasts while hitting the gym, but headphones' wires come between your way. Also, AirPods and earbuds fit in your ear, disconnect you from the outside world, and you miss the gossips happening around you.
Well, no more missing on the curious things as Aftershokz Treks Titanium is here for the rescue. It's a mini-size wireless headphone that will stay by your side through thick and thin. The 2 inches small than a regular headband size is an excellent fit for teens/people with a small head. Besides, athletes and people who love to run, jog, or ride a bike prefer this AftershokzTrekz Titanium bone conduction headphone. It promises comfort, durability, and satisfactory performance.
Anyways, let discover more details about this headphone that integrates a unique technology, making it possible to enjoy long call hours and listen to their favorite music while running. Moreover, it would not harm your eardrums while maximizing the volume and getting a high bass pitch. It is an affordable, easy to carry, and perfect headphones for regular use.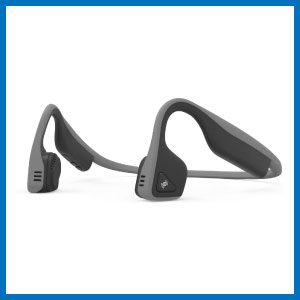 | | |
| --- | --- |
| Brand | Aftershokz |
| Connectivity | Bluetooth |
| Form factor | On-Ear |
| Color | Pink |
| Model | Trekz |
Aftershokz is famous for producing reliable products that will become a part of your life before you know it. Since we all like music, it enhances our mood, improves our productivity at the workplace, and of course, makes us calm through the rough day.
It comes in a perfect size for kids, teens, or people who have a small head. The headband is short in length than its other Titanium headphones. Let's jump to its features in detail and see why this product has captured the hype.
Design
Have you ever wore a headband to keep your hair organized? If yes, then you will quickly understand its comfy design. It is a rubber headband that is supposed to stay at your head back while giving support to its cylinder for securing a place near your ears.
You read that part right. It will not fit into your ears but rather stays on the cheekbone near your ear. The drums have a pad coating on them for your comfort, and the lightweight of the headphone would not burden you.
Moreover, Aftershokz kept the design simple, not adding much to it. You can find a power button, volume adjusting buttons because sometimes you do not want to pull out your phone for this minor adjustment (though you can always use your phone to adjust volume), and a mini USB slot for the charging.
Technology
It is a combination of many exciting technologies. The first and most important is the bone conduction tech. Aftershokz introduces this tech for so many obvious reasons. First, you should know what it is and how it is functional.
As we all know that listening to music or any noise through headphones can affect our eardrums, causing the possibility of its damage. So, Aftershokz realized this issue and came up with a bone conduction technology that links your skull bones and inner ear, transmitting voices while remaining on the cheeks. It has nothing to do with fitting in your ear and cause harm to your eardrums.
Surprisingly, this tech is beneficial in so many ways. First, it will keep our ears healthy. Second, people with ear impairments can also use this wireless headphone and enjoy the most out of it. Besides, this open-ear wireless headphone will keep you alert of your surroundings, so you did not lose track. Moreover, premium Pitch tech ensures the audio quality is crystal clear and delivers rich or deep bass performance.
Battery
It has a rechargeable lithium-ion battery that requires one and half hours of charging time to get full. But once it is complete charging, you can use the wireless headphone for up to six continuous hours. The standby time of the battery is ten days, so it ensures power saving.
Connectivity
Since the name says it all, it is a wireless Bluetooth headphone, giving you an easy and quick connection with your compatible devices. The headphone supports iOS and Android Bluetooth versions, making it accessible to all types of phone users. Moreover, it gives a wireless range of about 33 feet so that you can put the phone on charge while resting on your couch, listening to the most-awaited podcast series.
Performance
It performs well considering its open-ear design. It is primarily designed for people who love to stay occupied with something on their minds while aware of situations around them. Though it produces rich bass, and the audio quality is clear to understand. Obviously, it will work perfectly in quiet places, like running on a track, driving, or riding a bike. However, the quality would fall a little in busy, noisy places.
Conclusion
Undoubtedly, it is a cute pair of headphones with satisfactory audio performance. Its attractive design makes it suitable to take it on different occasions or keep them around your neck while not in use. It also gives you six hours of usage, which is pretty inspiring compared to the wired headphones at this price. It is a flexible and comfortable headphone to wear for long hours.
So, it will not make you bore while driving back home after a hectic day, giving you natural vibes without getting hard on your pockets. Are you still confused about making a purchase decision? Let us know in the comments what do you think about these cute wireless Bluetooth headphones.