It is always better to clean your headphone pads rather than buying a new pair every time, just like we do with our clothes and other laundry things. Besides, keeping them clean and washed all the time is a good thing though when they get dirt and stain. Most times, they started smelling terrible when you have worked out wearing them. Because they take all the sweat in along with the bad-smell in gyms.
Not to forget about health issues that are associated with dirty pads, either!
Here I'm going to share some tips and tricks to wash your headphones without damaging any electric parts in them. So they would not smell weird like sweat anymore.
Generally, two types of pads are out there that mostly come up with headphones, Foam, and Leather. Well, they can be irremovable or not, depending upon the brand you purchased.
Related: How to Connect Wired Headphones to TV
How to clean Dirty headphones
First thing I would like to mention here. Before we start the process, you should know whether you have a leather one or a foam one. Knowing what type of brand you have will make the process simpler to demonstrate for you. It is because the cleaning process is different for each one. Let's see the below guide.
Cleaning Leather pads
These types of pads are more popular among gamers, renown as gaming headphones. They are long-lasting, gives a better sound experience than the rest of them.
Things we need:
A piece of cloth, Microfiber.
Liquid Soap/ and Hand sanitizer
A perfume to get sweat smell out.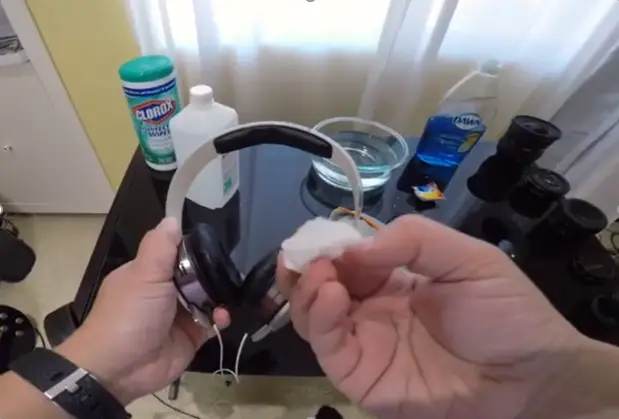 The simplest way to clean leather pads, grab a piece of cloth, preferably a microfiber one. Water it with any liquid soap. You can use any hand sanitizer, though. Rub the wet cloth on to your headphone's parts. And let it dry for a while, and do the same process two or three times.
Make sure you don't put too much liquid soap onto the cloth piece. Otherwise, you would have put your headphones in danger if the liquid reaches into the wiring parts it will damage it, either the color may get removed. And use some perfume and coat it using a microfiber cloth to smell well.
One thing you MUST not be doing is never switch it on unless it is completely dried. As the internal circuits are too sensitive, you should not take it lightly.
Pro-tip always puts a minimum amount of liquid soap on the cloth, whether it takes a longer amount of time, but this is the best way not to break your favorite headphones.
Cleaning Foam or cotton pads
These pads work great in summer as they soak sweat inside and reflect strongly against humidity. That's the reason most people often wear these pads when going for work out in gyms or walk-in early mornings. Having these sorts of pads does not make them feel uncomfortable even if they release so much sweat, they keep enjoying the music without feeling any irritations.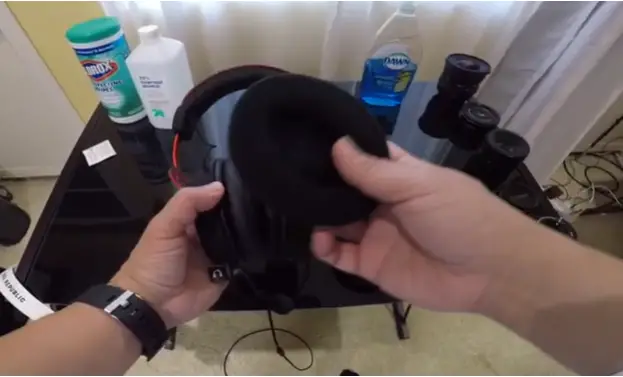 Needless to say, they get dirt relatively sooner than the rest of all. The soil in the air sticks to them, mainly when outing while listing to music using them. Resulting in more and more dirt collecting on these pads. And there you better think of cleaning them after a while.
If you don't you keep smelling a weird smell in them, which sometimes will drive you mentally sick.
Things we need.
Fresh water in a boil.
Detergent/ or any dirt remover product.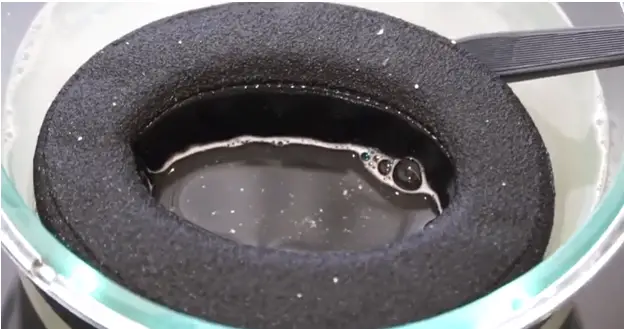 Put off the pads. They must be removable if they are foam-made. Mix some detergent powder in the water, any dirt cleaner product will be useful once the mixer is ready. And then, dip pads into the water and leave it for a while until all the dirt has been removed. Squeeze harder so the maximum amount of water will clear away, hang them somewhere to let them dry.
Related: Can wearing Headphones Cause Hair Loss
Cleaning Earbuds and earphones
Earphones or earbuds that you put inside your ears can also get dirty. They may not be looking bad, however, the internal part could be affected by germs produced by your ears as usual.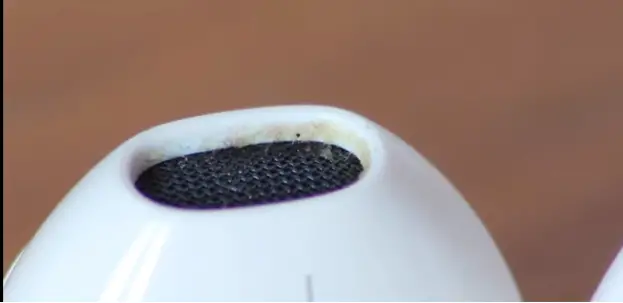 You should clean them once a week for health purposes. Because when you listen to music using them, the rate of producing bacteria increases, and all they stay on earpads. Therefore you might already see germs looking like grease.
Things we need.
Pick something like; slime, Blu-tack.
If your earbuds have rubber on them. It is better to replace them rather than cleaning. Anyways, after removing them, you can see nets covering the speakers. The dirt stays there.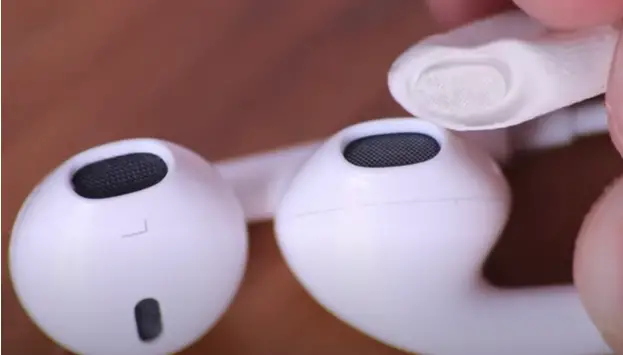 So far, for cleaning them, use a blu-stack. It is a dry but sticky product. You can use this to remove stain from your expensive AirPods as it is a very secure way of cleaning up. Even the small parts of an AirPods can be cleaned easily. Simply place it on the dirty parts, and it will soak up them all in an instant.
Can sweat ruin headphones?
To be honest, YES. Sweat can soak up into headphones pads and ruin it, primarily if you are using Bose headphones that mostly come up with a leather pad. Once the sweat is soaked, the leather will no longer be capable of maintaining its strength, and with time, it becomes loose. In contrast, the dust keeps ruining inside molecules and causes a terrible smell in a pad.
Can you wash headphone pads?
You can, not exactly mean you can put them into a washing machine. Out of the way, rub them gently using a piece of cloth and use some water or alcohol for extra shine. The thing you should keep in mind is don't ever get rough on them. Or else you will end up removing color or crop up any further technical problems.