Imagine listening to your favorite music or TED talk for long hours without damaging your ears. Yes, it is surprising. You had to compromise on your ear health in older times while listening to the music at maximum volume.
Well, Tayogo's latest wireless headphones integrate a remarkable technology, namely bone conduction that will transmit the sound to the inner ear by linking your face and skull bones. Yea, you read it right. You may feel the vibration in your jaws, but the sound stimulation directly goes to your ear without harming eardrums.
Since the technology is getting advanced, we can expect companies to bring innovative products to make our life comfortable. It is one of the innovations of Tayogo. Besides, it is easy to use and quick to set up. Well, don't worry, we will discuss Tayogo Bone-conduction headphones in detail, but first, let's have a product overview.
Tayogo Bone Headphones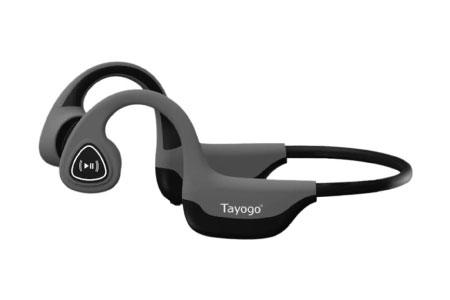 | | |
| --- | --- |
| Brand | Tayogo |
| Connectivity | Wireless-Bluetooth |
| Form Factor | In-ear |
| Weight | 35 grams |
| Color | Blue |
| Price | Under $50 |
Tayogo Bone Conduction Headphones is a smart headphone that can deliver exciting sound quality without occupying you from the outer world. It can be the best and safe alternative to your old wired headphones that tend to create a mess and rely on your phone's battery to work. I call it safe because it will not fit into your ears and make you uncomfortable.
It also comes in various colors, and this one is blue with an attractive look. Tayogo has been very careful and produces the product with care. It will make your jogging, running, and driving home from your office journey bearable. This comfortable to wear headphone product is ready to be a part of your gym routines and make you feel relaxed.
You must be aware that music can help in relaxation and change your mood in minutes. It will keep you going when you are least motivated to perform the task. Also, since this headphone will not directly fit into your ear, it will help you multitask, like listening to your favorite music or talking on a call with your friends while running, jogging, gyming, or even riding a bike.
Design and Built-Quality
We have been reading or seeing that the earbud or iPods were trending, and people were getting them without blinking. However, their charm could not stay longer in the market because of these innovative bone-conduction headphones. Ther are more likely built similar to the traditional headphones, but you have to make some exceptions with it.
They are simple, user-friendly, and safe headphones to use on regular terms. People with hearing impairments can also catch up to the private listening of their favorite songs without further damaging their eardrums. Anyways, the headphone's cylinders are made of piezoelectric crystals that will be supposed to position on your cheeks, near the ear. They would have a padded covering, making sure your cheeks or face is safe to wear. Besides, they are wireless, so you do not need to worry about the wires hanging over your face.
The little headphone drums have the support of a rubber band at the back of your head. The band is also comfortable to wear, would not give you a hard time using long hours.
Battery life
The battery life of Tayogo Bone Conduction Headphones is pretty impressive. It can run over six hours after charging for about one and half hours. It has a 200mAh battery, perfect for long calling hours. The Tayogoheadphone has one rechargeable Lithium-ion battery that comes with a guarantee to last long and offers a standby time of ten days.
Connectivity
Tayogo Bone Conduction Headphones are easy and quick to connect via Bluetooth version 5.0. No matter what phone or model you are using right now, it is compatible with iOS and Android devices. The Bluetooth has a range within thirty feet, so if you are hitting the gym while putting your phone on charge, it will still be working and keeping you engaged. It also features a built-in microphone that allows you to have a chat with your friends conveniently.
Sound Quality
It delivers fantastic and crystal clear audio. The dynamic range and bass performance enhance the overall performance. Since it is an open ear headphone, you need to compromise a little on the volume and performance. The primary purpose of designing such headphones is your safety and to keep you alert from the environment, so it would not be a good choice in a rush or busy place.
Moreover, when you put it on the maximum level, the vibration it releases on your cheeks makes you uncomfortable because it travels through your jaws and makes your whole face vibrated. So, better to use it while you are on the running track or driving/riding.
Other Features
I would say it would be a valuable choice for obvious reasons. It is comfortable, easy to connect, and can be used for long hours, unlike the traditional ones. It is lightweight and gives you a wearing comfort as it needs no wire.
It comes with an IP55 water-resistant technology that makes the headphone safe to use in raining or extreme weather conditions. It also means that the sound quality would not affect your sweat while running. It also allows you to enjoy the podcast while riding the bike on rainy days.
Conclusion
Tayogo Bone Conduction Headphone is a cute, trending, and affordable device to listen to your favorite podcast while staying busy with your work. It is lightweight, so setting up at your head for the plonged period would be no issue.
It comes in different colors and provides six hours of continuous playback time. So, it will keep you accompany on the boring office rides, or even when nothing feels right. The headphone is waterproof, and safe to use for those with hearing issues. Besides, the sound performance is a little off, considering its open ear design, but it proves to be helpful when in need.